Sorry I haven't posted anything new lately...
The holidays were crazy and I was trying to recoupe and finally get our house unpacked (we moved 5 months ago...lol) the past month.
But I have come across a couple fun new blogs...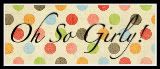 Want FuUuUn bows, bracelets, watch bands and crayon rolls for you and your kids? Head on over to Oh So Girly!! I just recieved my order in the mail and they are great products and at a GREAT price. I can't wait to give the crayon rolls to my kids for Easter (or Valentines cause I just can't wait) and the bows and flowers will be so fun in Ellie's hair. I bought a bracelet for her too that is adorable. She was wonderful to work with and I got my order very fast!
Another GREAT site for fun Scrapbooking deals is...
It is a lot like cropchocolate.com! They have a new deal everyday at a GREAT steal...so check it out!!
If I come across some other great sites or if you have any that would be great to post here please let me know!:)